In Memory of Edith M. Kreider (1921-2018)
Edith M. Kreider, 97, of Annville, died Friday, May 4, 2018 at the Lebanon Valley Home. She was the wife of the late Rev. Roy J. Kreider.
Born in Lebanon on January 26, 1921, she was the daughter of the late Samuel and Catherine (Wise) Hackman. Edith was a homemaker and a bookkeeper for many years. She was a member of Campbelltown United Christian Church. Edith enjoyed playing piano, sewing and cooking.
Surviving are her children Dale R. Kreider, husband of Rosemary of Campbelltown, Gerald R. Kreider, husband of Jane of Lebanon, and Joanne Kreider of Lancaster, four grandchildren, Kellie, Jason, Clayton and Charlene, and seven great grandchildren. She was preceded in death by a son R. Jay Kreider, foster parents John and Annie Bamberger, and she was the last surviving of seven biological children and three foster children.
Funeral services will be held on Wednesday, May 9, 2018 at 11 a.m. at Fontana Union Chapel, 22 Fontana Avenue, Lebanon, PA 17042. Viewing will be held one hour prior to the service. Interment will be at the convenience of the family.
In lieu of flowers, contributions may be made to United Christian Church Mission Board and sent to: United Christian Church Missions c/o Brandon Groff 1862 Blacks Bridge Road, Annville, PA 17003.
To send flowers or a memorial gift to the family of Edith M. Kreider please visit our Sympathy Store.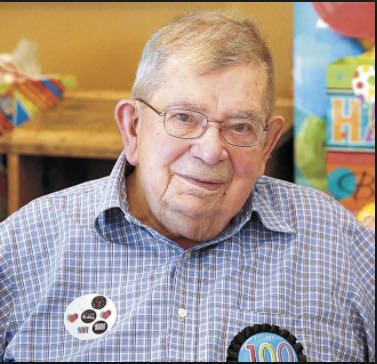 In Memory of Christian Enos Heisey 1918-2018
Winchester, VA – Christian Enos Heisey, 100, formerly of Hershey, died Tuesday, April 24, 2018 in Winchester, VA. Born in Lawn, PA, February 21, 1918 the son of Jacob E. and Mary E. (Shearer) Heisey.  He is survived by a daughter, Sarah A. Kerns (husband Rob) of Winchester, VA; and a son, William J. Heisey (wife Lil) of Richmond, VA; 13 grandchildren; 27 great-grandchildren; one great-great-grandchild; and many close friends. He was preceded in death by his wife, Mary Jane (Seltzer) Heisey; and two daughters, Mary C. Harris and Emma-Jean Heisey.
In his early years, Enos worked on a farm with his family, and for other farms in his teen years. He was a mechanic for the Hershey Chocolate Factory, a postal carrier and clerk for the U. S. Postal Office. He was a member of the Hershey Volunteer Fire Company for many years. For over 60 years he said his hobby was being the caretaker of Broadview Cemetery in Hershey. He was very active in the United Christian Church, serving at Balsbaugh's and Campbelltown. A memorial service will be held in Pennsylvania at a later date.
We are committed to helping you find the right path to spiritual development and ministry opportunities.
Events for week of June 24, 2018
This Week Navigation
June 24 @ 5:00 pm
-
6:30 pm
June 27 @ 9:00 am
-
10:00 am
In our neighborhoods and to the ends of the earth.